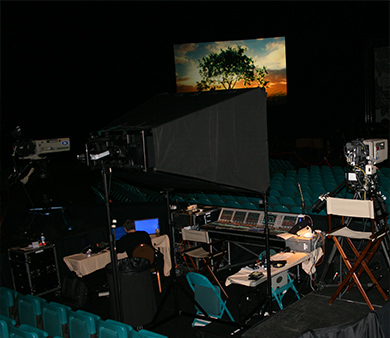 Displays
Jumbo Bright Prompters' ultra bright teleprompter displays come in two styles and several sizes. The smaller sizes are floor based and utilize a mirror to minimize the overall size of each display while the larger displays are direct project units which come with a custom stand or can be flown. In addition to typical presenter applications, Jumbo Bright's floor mounted displays can also be used with video and film cameras as through-the-lens displays, and Jumbo Bright ultra bright displays perform perfectly outdoors, as well as indoors.
All Jumbo Bright displays utilize 6,000 hour rated laser projectors and Jumbo Bright's patented Fresnel lens screen design. This unique screen design focuses, intensifies and projects your teleprompter text much like a spot light, and it's this patented technology built into all Jumbo Bright Prompters' displays, which both brightens the image for your presenter (talent,) and forbids those who are off-axis to the projected sweet spot to read the projected text.
Jumbo Bright display rentals come fully self contained and do not have complicated or expensive staging requirements. It typically takes from 45 to 90 minutes for a Jumbo Bright technician to build and set a Jumbo Bright display depending on the size of display and location variables. Jumbo Bright displays are relatively light weight, make no noise during operation and use normal 120 volt, 20 amp power.